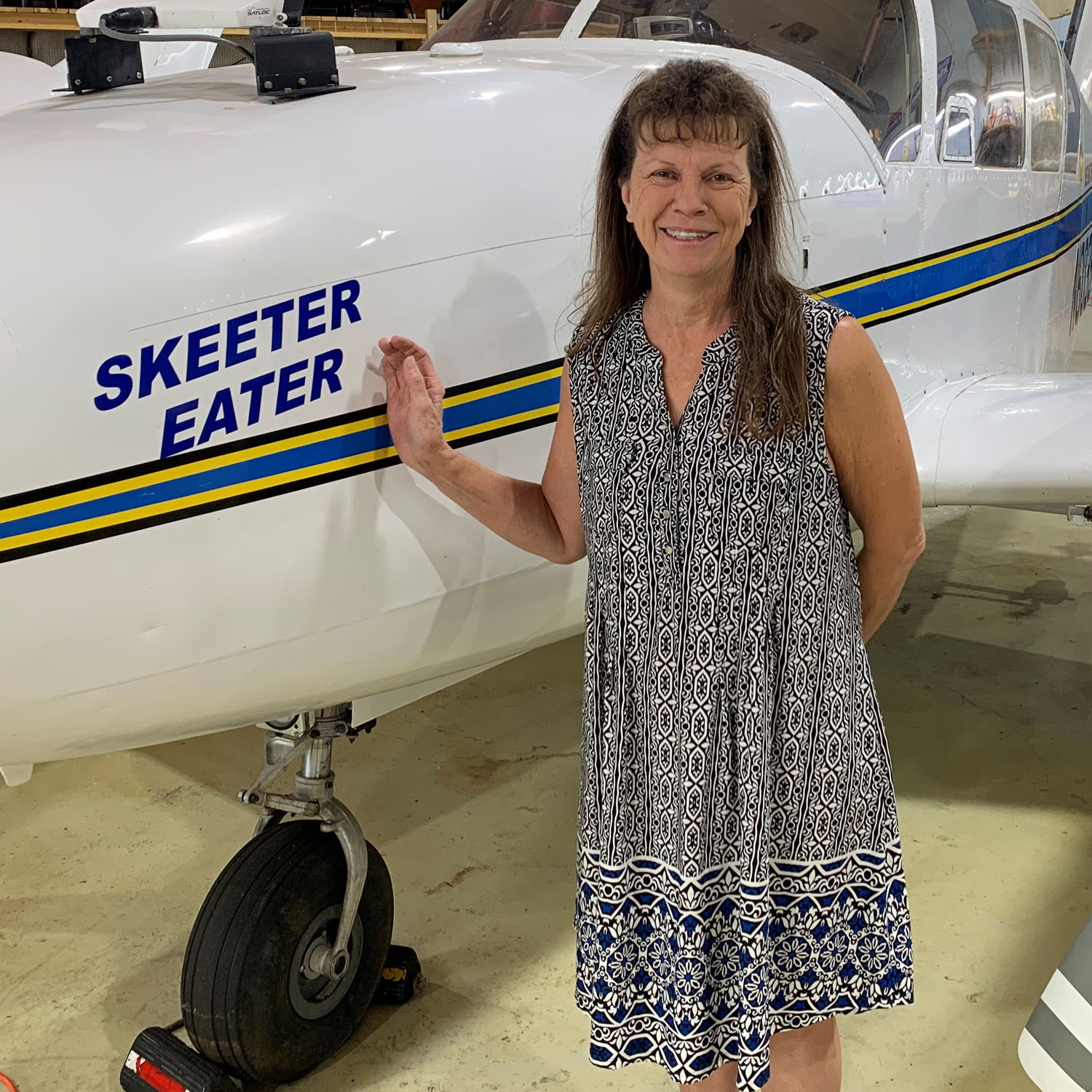 Shanda Allen represents District 11 on the Horry County School Board, which is comprised of Aynor, Conway and Green Sea Floyds. Her reach extends beyond Horry to neighboring counties as one who has helped her husband, a former pastor, tend to two flock of congregants and one who continues to assist him with dusting crops in several states.
On any given day at the family-owned Allen Aviation, she can be found washing, loading or programming the planes before they are dispatched.
"We have a program that if a farmer comes in or an industry needs our service, I'll map that in a GPS mapping system and email that to the plane's guidance system," said Allen. "They go out to do the job created and apply product. When the job is completed, they email the map back to me. It shows exactly where they have been, what time, the humidity, the wind (and) all that good stuff."
It is the work of the Allens which helps farmers provide nutrients and combat the presence of bugs on crops regionally, statewide and beyond. Specifically, the couple assists growers with the aerial application of a product to protect the food supply from pesticides.
These daily tasks at Allen Aviation parallel those she employed in her children's schools and in other capacities in the district, familiarizing Allen with the intricacies of education long before she was elected to the school board in 2016.
"I worked in the school from the time my oldest got in the school system," said Allen. "I volunteered. I was room mom (and) very, very involved in the schools."
One can easily see the correlation between how Allen serves in education, in aviation and her service as the wife of a former pastor.
"My husband was a minister when we met. Actually, (our) first date, when he told me he was a minister, I thought we probably won't date long," Allen said jokingly, some 36 years later.
As a pastor's wife, Allen guided, nurtured and educated the membership on spiritual matters and in many regards, it is how Allen sees her function in every area of life, particularly education.
"I tell children all the time when we're in school and they come up to me constantly – teachers, and they'll tell you, if you ask Shanda to pray, guess what you're going to (do) right then and there?" said Allen. "We're going to lock up hands and we're going to pray."
Allen credits her faith with helping her get through her own breast cancer trial and that of several of her family members.
Of her first run for office, Allen said, "When I filed in March (2016), that May, we found out our daughter had cancer. My mom, my dad, my husband's mom and dad, all died with cancer."
Because of her daughter's diagnosis, Allen was unable to focus on the impending school board election.
"I did not campaign because you go to a place when it's your own child. (We did) a lot of praying," Allen said. "I don't remember seven days of my life because we did a lot of praying and a lot of fasting for her and God healed her."
Allen did not have to worry much about the election thereafter either.
"I didn't campaign my first campaign. God put me where he has me," said Allen. "My second campaign (term), nobody signed up to run, and I'm there until God says go home because I'm going to still do what I do regardless of what happens."
Allen said she wins either way.
"I'm still going to serve God in whatever capacity (He) needs me," she said.